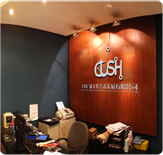 Gush Multimedia is a turnkey contractor for multimedia display and exhibition.
Gush Multimedia is a turnkey contractor for professional planning, creative design of display and exhibition, design of multimedia display and engineering performance projects. It has been always presenting products with the concept of "show" to perfectly combine commerce with art. Gush Multimedia believes that whatever the subject, content, form or size of the exhibition items are, the multimedia exhibition items, taking "show" for design concept, will improve the project level, enhance the enjoyment of audiences, meet the clients' requirements and achieve the perfect effect of exhibition or performance for various science halls, museums, memorial halls, company showrooms and small venues.
Industry Leader with a Long History
Shanghai Gush Multimedia, one of the earliest multimedia exhibition companies in China, was founded in 1997 by a group of elites from the Shanghai Science and Education Film Studio. Gush Multimedia walks in the forefront of the multimedia exhibition industry, and gains a leading role in the industry from its outstanding events including the presentation of multimedia items to the Shanghai Science and Technology Hall (Phase I), the contributions to the China Pavilion at World Expo 2010 Shanghai and the dedications to theme performance of 2011Xi'an World Horticulture Exposition. Thanks to its outstanding achievements, Gush Multimedia also wins extensive social recognitions and numerous honors.
Leading Creativity and Superior Production
Gush Multimedia has unique creative ideas in planning and designing large venues and multimedia projects. Its creative team is built with members from the elites of Shanghai film industry, including professionals in planning, directing, photography, scene, makeup, costumes, props, special effects and so on. It adopts the film-production standard to plan and manufacture the exhibition items. At the same time, the company also owns a professional team for project management and R & D, which dedicates to the design and research of multimedia technologies and project management. Gush Multimedia vows to provide the best multimedia exhibition items to customers with the best creativity and excellent productions.
Perfect Assembly and Considerate Service
Shanghai Gush Multimedia enjoys expertise in overall design, construction and manufacturing of various pavilion projects. We provide design and production service for multimedia display project of museums, science & technology halls and memorial halls and multimedia in-field show at all kinds of large-scale tourism, business and culture real estate, and make a "turnkey" project for clients. Bearing clients in mind and sharpening its professional competitiveness, Gush Multimedia has designed, built and maintained hundreds of exhibition projects, winning highly praises from leaders at various levels. Furthermore, we provide high-quality post-maintenancefor international expos including World Expo Shanghai, World Horticulture Exposition Xi 'an and various show venues, and get widely praised